Map of Planting Zones
What is your USDA hardiness zone? Use our zone finder tool to find out.
Most gardeners start with the USDA Plant Hardiness Zone Map. Based on the average annual winter temperatures in a region, this map gives you a good indication of what plants are likely to survive winters in certain areas.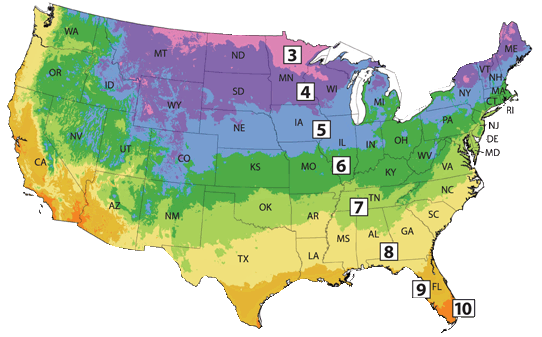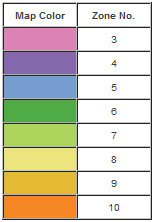 Plant Zone Finder
Find Your Zone & Recommended Plants
Oops, there seems to be an error, please re-enter your email address.
What are the limitations of the zone map?
The USDA Plant Hardiness Zone Map is based on average temperatures. If you are growing a plant that is marginally cold hardy for your zone, a winter with below average temperatures could damage or kill a plant. Also remember microclimates exist within each zone. An unprotected area in a field is likely to experience lower temperatures than a protected area on the south side of your home. Valleys tend to get colder than hillsides.
What other factors determine plant survival and growth?
Sunlight: Some plants prefer full sun (six or more hours or sunlight daily) while others grow best in the shade (less than two hours of direct sunlight daily).
Soil types and structure: Soil can vary from region to region and even in different locations in your yard or garden. Some plants need loamy, well-drained soil while others will grow in clay and other types of soil.
Soil pH: Some plants, like blueberries, require acidic soils. Others grow happily in neutral or alkaline soil.
Summer temperatures: Some plants thrive in hot summer temperatures while others prefer cooler climates.
Water: While all plants need water, some require more than others. Drought-tolerant plants are able to go a little longer without water.
Air circulation: Some plants, like roses, need good air flow, while others don't need as much.
At Gurney's, we grow and test many plants at our research farm in Ohio (Zone 6). However, we work with plant breeders and growers throughout the United States. When testing plants, we note what environments they tend to prefer and include that in our product descriptions.
---
Have another question? Return to the Customer Service Help page or send an e-mail directly to Customer Service