Crunch-A-Bunch™ Warm Apple Dressing on Wilted Green Salad
Chef Katie O'Reilly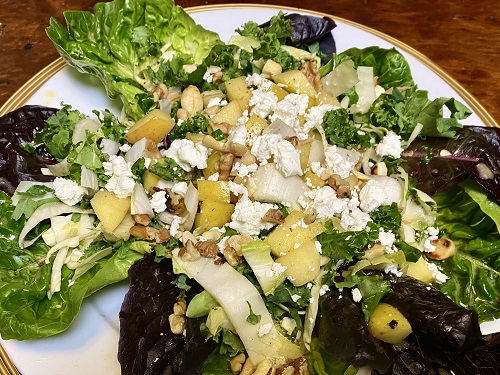 Ingredients:
2 bulbs Belgian endive
2 heads red and green leaf lettuce
4 cups Crunch-A-Bunch apples in bite-sized chunks, skin on
½ cup apple cider vinegar
1 Tbsp honey
1 tsp Dijon mustard
1 cup raw nuts (walnuts, pecans, cashews, or almond)
½ cup crumbled goat's milk cheese
3 Tbsp olive oil
salt and pepper to taste and cracked black pepper to finish
Directions:
Slice the endive bulbs into half rounds and add to kale in a mixing bowl.
In a sauté pan on medium-high heat, add the 3 Tbsp of olive oil and apples. Sauté for 5 minutes.
Add the vinegar, mustard, honey, and salt and pepper to taste. Sauté for 2 minutes.
Divide the greens into four even portions, line plate or bowl with alternating red and green leaves with the kale and endive mix in the center.
Pour the warm apple dressing onto the greens, top with nuts, crumbled goat cheese, and cracked black pepper.
Enjoy warm.
Chef Notes: If you would like the nuts warmed and toasted, heat in a dry pan on medium high for 3-4 minutes stirring occassionally to toast all sides
Serving Suggestions: Serve with a savory soup or warm bread and butter
---
Related products: