Baker's Delight™ Apple and Cranberry Cake
Chef Katie O'Reilly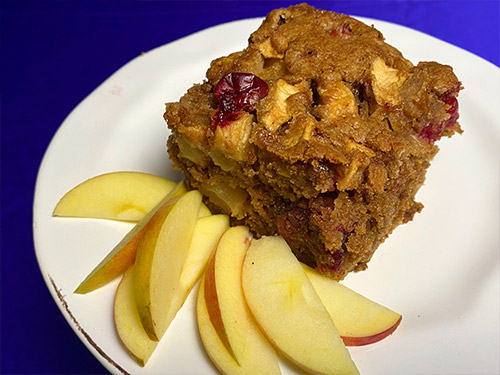 Ingredients:
7 cups cubed Baker's Delight apples, skin on
1 medium orange, freshly juiced
10 oz fresh cranberries
4 cups all-purpose flour
3 ½ cups brown sugar, packed
2 tsp gound cinnamon
1 tsp ground nutmeg
2 tsp sea salt
2 large eggs
1 cup vegetable oil
2 tsp vanilla extract
Directions:
Preheat oven to 400 degrees.
Sift together flour and dry ingredients in medium bowl. Set aside.
Combine oil and sugar in large bowl. Add eggs, orange juice, and vanilla. Beat on medium speed with hand mixer for 1 minute or until well blended.
Stir in flour mixture until thoroughly combined. Small lumps are expected.
Fold in apples and cranberries.
Pour mixture into well-greased 9" x 13" pan.
Bake for 1 hour and 40 minutes. Test with toothpick to make sure center is done. (Toothpick should come out clean. If coated with batter, bake another 15 minutes and test again.)
Chef Notes: Check after 45 minutes and if top begins to brown prematurely, cover with foil and continue to bake.
Serving Suggestions: Cut in 2" squares. Yields 24 servings.
---
Related products: