Baker's Delight™ Apple and Baby Turnip Sauté
Chef Katie O'Reilly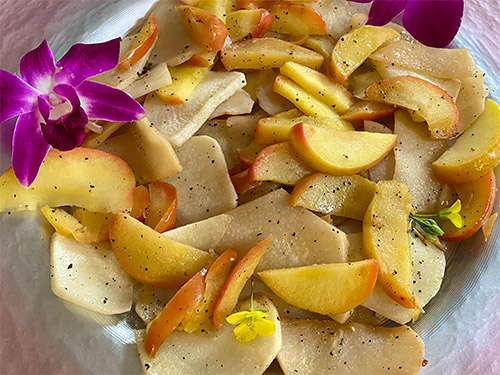 Ingredients:
6 medium-sized Baker's Delight apples, skin on, sliced in ¼" thick slices
4 medium-sized young turnips, peel removed, sliced in ¼" slices
4 Tbsp apple cider vinegar
2 Tbsp olive oil
2 Tbsp unsalted butter
2 oz apple cider
4 sprigs of fresh thyme
salt and pepper to taste
Directions:
On medium heat in a large sauté pan, add oil and butter.
Add turnip slices to pan after butter has melted and cook for 12 minutes until turnips are translucent.
Add sliced apples, thyme, apple cider, 2 Tbsp of apple cider vinegar, and salt and pepper to taste.
Continue to sauté on medium heat for 12 minutes.
Finish with remaining apple cider vinegar and any additional salt and pepper.
Chef Notes: May be served as an entrée for vegetarians. Also pairs deliciously with Apple Cider Glazed Grilled Pork Chops, Rosemary Roasted Chicken, or Sumac Dusted Roasted Cauliflower Steak.
---
Related products: