RazzMatazz® Grape Roasted Chicken Salad
Chef Katie O'Reilly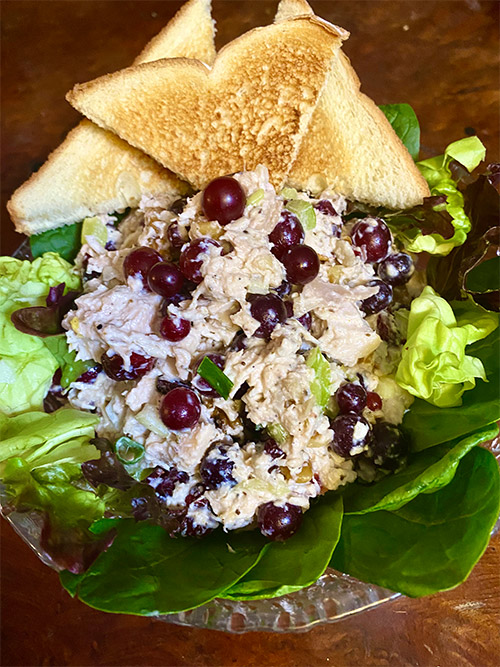 Ingredients:
3 cups diced roasted chicken (skin removed)
2 stalks celery with leaves
4 oz dried cranberries
12 oz RazzMatazz grapes picked off the vine
⅓ cup chopped walnuts
2 tbls mayonnaise
2 tbls sour cream
½ juiced lemon
1 tbls white wine vinegar
2 tsp dried sage
1 tsp honey
salt and pepper to taste
Directions:
Dice roasted chicken (skin removed).
Chop celery and green onion into small, diced pieces.
In a medium sized mixing bowl, add chicken, celery, green onion, chopped walnuts and cranberries. Mix to combine ingredients.
Add the mayonnaise, sour cream, lemon juice, vinegar, honey and sage. Mix together well with the other ingredients.
Add the grapes and gently fold into salad.
Salt and pepper to taste.
Chill one hour in the refrigerator, taste and adjust seasoning before serving.
Chef Notes: If there are any drippings from the roasted chicken, these add delicious flavor to the chicken salad.
Serving Suggestions: Serve as a sandwich on your favorite bread or roll, or as a salad.
---
Related products: