Pixie Crunch® Apple Irish Cake with Warm Custard Sauce
Chef Katie O'Reilly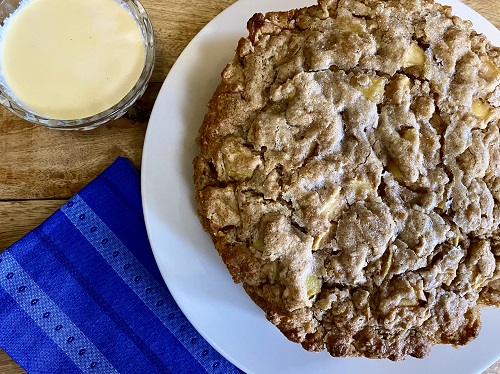 Ingredients:
3 cups all-purpose flour
3 tsp baking powder
¼ tsp ground ginger
¼ tsp ground nutmeg
¼ tsp ground cloves
1 tsp cinnamon
¾ cup sugar plus extra to sprinkle on top
¼ tsp salt
2 eggs
¾ cup cold cubed unsalted butter
6 cups Pixie Crunch apples, peeled, cored and cubed
¾ cup whole milk
1 tsp vanilla
FOR THE CUSTARD SAUCE
6 egg yolks
½ cup sugar
1½ cups whole milk
2 tsp vanilla
Directions:
Preheat oven to 375 degrees. Grease and flour a springform pan.
In medium bowl, combine milk and eggs and beat until mixed well.
In a large bowl, mix together all dry ingredients.
Add cubed butter and cubed apples to dry ingredient mixture. Mix well.
Add egg and milk mixture until a moist, thick batter forms.
Once all dry ingredients are incorporated into the batter, fill the springform pan with the mixture.
Top with light sugar topping and bake for 55 minutes until toothpick comes out without wet batter. Do not overcook. This cake is supposed to be moist.
For the custard sauce, whisk together egg yolks and sugar.
In a pan on medium-high heat, bring the milk to a light boil until bubbles begin to form around the edges.
Remove from heat, add a small amount of hot milk to egg mixture and whisk well to temper the eggs to avoid scrambling them.
Once tempered, add egg and sugar mixture to the pan with remaining milk.
12. Heat, whisking continuously for 3-4 minutes until mixture thickens slightly. Remove from heat and fold in vanilla. Serve warm over the cake.
Enjoy!

---
Related products: