One of the best purple rebloomers
Up to 6-in., ruffled flowers
Semi-evergreen foliage
Low-maintenance sun perennial
Plant in large masses or as ground cover
Dramatic purple daylily is sure to take center stage! One of the very best purple reblooming daylilies, MacBeth has large 6-in, lavender-purple, ruffled flowers with dark purple centers and green-yellow eye zones. Blooms in midsummer and again from late summer to early fall. Grows 18-24 in. tall with a 24 in. spread. Its grasslike foliage is semi-evergreen. Low maintenance and adaptable, daylilies are favorites for planting in perennial flower beds, in large masses or as a ground cover along fences or on slopes. These vigorous perennials come back year after year. Plant in full sun to partial shade. Bareroot. Zones 3-9.
Is Jumbo the Way to Go?
This daylily is available in a Jumbo Bareroot size. Ideal for gardeners who hate to wait, jumbo bareroots have a considerable head start over our standard #1 size.
Jumbo bareroot benefits:
Instant landscape impact
Faster plant growth
Earlier blooms—likely within the first year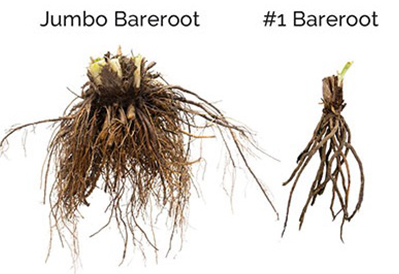 Our jumbo bareroot, multi-fan clumps have larger, more established root systems to produce more blooming scapes per plant than standard #1 bareroots.