How To Grow Strawberries:
The Gateway to Lifelong Fruit Growing
If you've never grown fruit in your home garden, strawberries are an excellent choice for getting started. They're easy to grow, and you're guaranteed to see fruit the second year. Depending on the variety, you might be able to harvest several crops the first year. Strawberries require few if any sprays, and fruit production will continue for years if the plants are properly managed. And as you gain experience and confidence, you'll likely want to grow even more strawberries. New varieties are being introduced every year, and flavor and performance continue to improve.
What should I look for when buying strawberry plants?
When you see strawberry plants for sale, whether at a local garden center or in a mail-order catalog like Gurney's, ask yourself several questions before making a purchase.
Do I want Junebearing strawberries or everbearing varieties?

Junebearing produce one large crop per year.

Everbearing produce several crops per year.

Which strawberry varieties are hardy in my area?

No matter where you live in the lower 48, there's a strawberry that will be hardy in your area.

Do you want a large harvest? Or do you want an extended harvest?

When do I want to harvest berries?

Mid spring to early summer
Junebearing crop

Every 6 weeks until fall
Everbearing crop

How do I plant a bareroot strawberry plant?

Check out our detailed
STRAWBERRY
PLANTING GUIDES
for more information
Should I plant Junebearing or everbearing strawberries?
Junebearers are the most well-known type of strawberries. They produce one large crop per year. In most of the United States, this occurs sometime between mid spring and early summer. Most Junebearers have a 10-day to 2-week picking window from the time they start to ripen to the time they finish ripening.
To extend your harvest season, plant varieties that ripen at different times. Start the season with 'Earliglow', the standard-bearer for flavor and sweetness. Popular midseason varieties include 'Honeoye', 'Jewel' and 'Flavorfest'. Finish the season with the taste-test winner 'Sparkle' and the large, juicy fruits of Gurney's 'Whopper'.
Everbearing varieties produce several crops throughout the growing season. Also called day-neutral varieties, they begin producing fruit the first year after planting. Although the crop is not as heavy as those from Junebearing varieties, you'll be rewarded with fruit every six weeks until freezing temperatures arrive in the fall, with the best production occurring in cooler weather. It's gratifying to harvest strawberries during a part of the year that is not generally considered strawberry season.
'Albion' and 'Ozark Beauty' are classic everbearing strawberries, but the best everbearing strawberry is perhaps 'Charlotte'. Charlotte's fragrant berries have a candylike sweetness that will delight everyone who tastes them. Indeed, it's the favorite strawberry variety of staff on our research farm. And unlike many other varieties in its class, Charlotte produces a nice crop even during the heat of the summer—yet another reason to love this variety.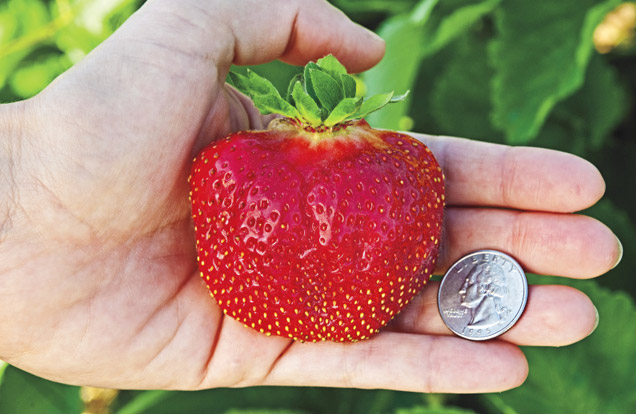 Many Junebearing varieties like Gurney's Whopper can produce palm-sized berries that will astound your neighbors!

Everbearing varieties like Charlotte will produce fruit multiple times throughout the summer and into fall. While they may not be as big, they are usually even more delicious and great for fresh eating.
Best Fresh Eating Strawberries
How Hardy are Strawberries?
No matter where you live in the lower 48 of the United States, there's a strawberry hardy enough for your area. The majority of our strawberries are cold hardy in zones 4-8. 'Honeoye', 'Fort Laramie' and 'Charlotte' are even hardier, growing in zone 3. Some varieties, such as 'Whopper' and 'Chandler', are well suited for the warmer climates of Zones 6-9. 'Festival' can be grown even deeper into the Southeastern zones of 9-11.
Are strawberries easy to grow?
Strawberries are the easiest fruit to grow. As long as you provide a few basic elements, they will thrive in vegetable gardens as well as raised beds, containers, and home landscapes. Full sun and well-drained soil are keys to success. So is soil type. Strawberries prefer a slightly acidic soil; however, they will do well in a wide range of soil pH. When growing in containers, be sure to use a quality potting soil.
Proper planting depth is one of the most critical keys to success. Plant bareroot strawberries so the soil comes halfway up the crown. The crown is the area between the roots and the sprouting leaves. Space plants 12 to 18 inches apart. After planting, strawberries can be mulched with shredded leaves or straw.
Remember to always pinch off the first set of blooms after planting. This will help your strawberry plant produce a larger crop.
Strawberries produce runners off the mother plants. As these runners produce new plants, it is important to space each plantlet 6 inches away from the mother plant. As you do this, push the plantlets gently into the soil until they are stable.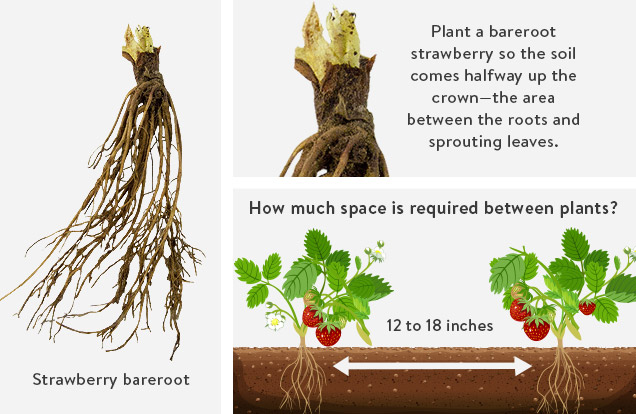 Are strawberries healthy?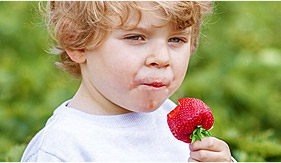 Strawberries are more than just sweet and delicious. They're also good for you because they're loaded with vitamin C, manganese, folate and potassium. In addition, they contain a host of antioxidants and other beneficial plant compounds that have been linked to good health in humans.
It's easy to have strawberry fields forever!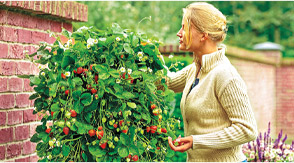 Whether you have access to a large garden in the country, a small plot of land in the suburbs or just a balcony in the city, you can grow and enjoy strawberries now and for a lifetime. Strawberry fields forever are just a mouse click away!
Strawberry Fertilizers