Baker's Delight™ Apple and Butternut Squash Soup
Chef Katie O'Reilly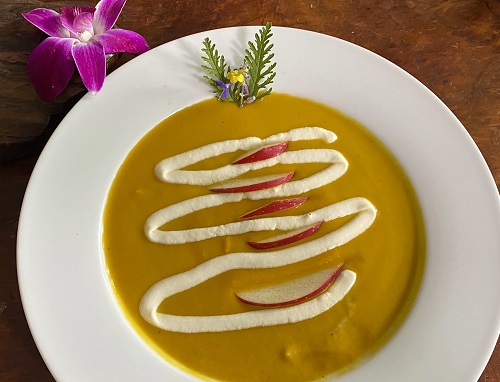 Ingredients:
12 oz coconut milk
1 tsp cinnamon
2 tbs brown sugar or honey (optional)
Directions:
Preheat oven to 400 degrees, oil a baking sheet, slice butternut squash in half lengthwise, place face down and roast in over for 30 minutes until soft.
Remove skin and discard, cube the squash.
In a large heavy pot, on medium heat, add oil, onions, celery, carrots and garlic.
Sauté for 10 minutes until onions are translucent.
Add apples and butternut squash and cook for an additional 7 minutes.
Add vegetable broth, coconut milk and all remaining seasoning.
Cover and cook on medium heat for 20 minutes.
Puree in blender until smooth.
Chef Notes: Garnish with honey Greek yogurt and thin slices of Baker's Delight Apple
---
Related products: