Reliable rebloomer
Impressively large blooms
Eye-catching coloration; can be seen from a distance
Carefree perennial plant
One of the most impressive reblooming daylilies we've found! This rebloomer has large, 6" single flowers in hues of dark orchid-violet with a violet halo and a vibrant green throat. What really makes this the Snaggle Tooth Daylily stand out are the white "teeth" along each petal's edge. Butterflies and pollinators love it! Its green, grasslike foliage is semi-evergreen. Like other daylilies, Snaggle Tooth Daylily is a low-maintenance perennial that is drought tolerant and easy to grow. It grows best when planted in full sun to partial shade. This reblooming daylily looks impressive when planted in perennial borders or in naturalized areas. Hemerocallis 'Snaggle Tooth'
Is Jumbo the Way to Go?
This daylily is available in a Jumbo Bareroot size. Ideal for gardeners who hate to wait, jumbo bareroots have a considerable head start over our standard #1 size.
Jumbo bareroot benefits:
Instant landscape impact
Faster plant growth
Earlier blooms—likely within the first year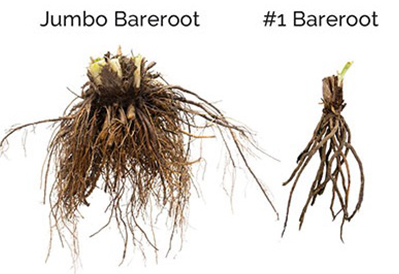 Our jumbo bareroot, multi-fan clumps have larger, more established root systems to produce more blooming scapes per plant than standard #1 bareroots.