Hybrid Lily Tree® Mix
An Exotic Mix of Colors!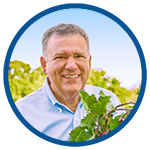 This breathtaking mix features stunningly beautiful two-toned flowers in brilliant shades of red, orange, golden yellow, pink and white. Lily trees have very strong, sturdy stems and reach heights of up to 8 ft. in just three years, adding captivating beauty and interest to your garden. Our Lily Tree Mix blooms in mid to late summer when a lot of other flowers aren't blooming and looks wonderful against fence lines. The striking pendant-shaped flowers are up to 8 in. across and have thick waxy petals. They're a dramatic addition to cut-flower arrangements. Each stem holds up to 30 blossoms that bloom over the course of weeks. The plants bear whorls of dark green lancelike leaves and perform best in full sun to partial shade, in sites that possess organically rich, well-drained soil. Plant the bulbs 12-15 in. apart. Zones 3-10.