Pixie Crunch® Apple, Potato, Leek Pie
Chef Katie O'Reilly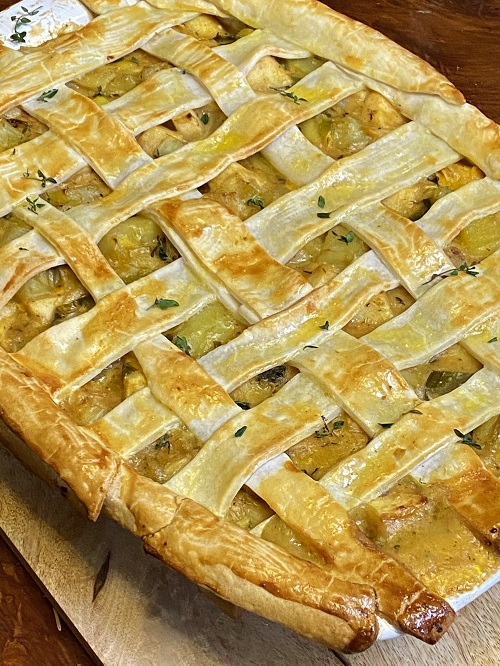 Ingredients:
6 cups Pixie Crunch apples, skinned, cored and cubed
6 cups golden potatoes, skinned and cubed
4 cups leeks, sliced and halved
½ tsp garlic, minced
3 Tbsp Marsala cooking wine
2 cups vegetable stock
3 tsp all-purpose flour
1 Tbsp dried thyme or bunch of fresh leaves
½ tsp white wine vinegar
1 Tbsp Dijon mustard
1 tsp Worcestershire
3 cups shredded sharp cheddar cheese
½ cup salted butter
2 Tbsp olive oil
salt and pepper to taste
FOR CRUST
1 prepared refrigerated pie dough
1 egg
Directions:
Bring a 2-quart pot of water to a boil on the stove. Boil potatoes for 5 minutes until semisoft.
In a sauté pan on medium-high heat, add the butter and olive oil.
Once butter is melted, add the leeks and garlic, sauté for 10-12 minutes until leeks are soft.
Add all ingredients (except for apples, potatoes and cheese) and cook for 3 minutes.Then add apples and potatoes and cook for 5 minutes.
Fold in the cheddar cheese, salt and pepper to taste.
Fill a 9x13 inch casserole pan with warm mixture.
Unroll and slice pie dough into ½ inch thick slices and lay out on a sheet pan.
Start by placing strips of dough about 1½ inches apart horizontally across the pie.
Then one by one, weave in the remaining strips vertically using an over-and-under technique. Also leave a small space between. Use remaining dough for sides.
Whisk one egg and paint the top crust.
Bake at 400 degrees for 20 minutes. Cover crust with foil if it is turning brown.
Let stand for 5 minutes before serving.
Chef Notes: For the vegan version, replace the butter with extra olive oil and do not add cheese.
Serving Suggestions: Serve with wild-greens salad or Crunch-A-Bunch® Apple and Brussels Sprout Slaw.

---
Related products: