Gurney's® Vegetable Spaghetti Squash with RazzMatazz® Seedless Grape
Chef Katie O'Reilly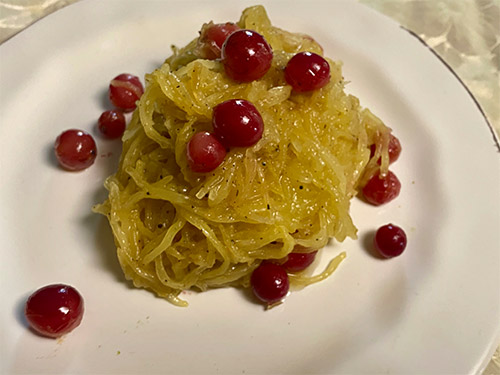 Directions:
Preheat oven to 425 degrees.
Cut squash in half lengthwise. Scoop out seed and pulp and discard.
Cover insides of squash halves with thin layer of olive oil, salt and pepper.
Bake in oven for 45 minutes until slightly browned and fork tender.
Once removed, cool for five minutes. Using a large fork, gently scrape the squash lengthwise into thin spaghetti strips. Place strips in bowl.
From the shells, clean away any remaining squash and discard. Use the shells as serving bowls if they have no tears or holes.
Place sauté pan on medium-high heat, add butter, allow to cook for one minute. Add RazzMatazz grapes, sauté for 4 minutes. Add honey and stir, salt and pepper to taste.
Toss the thin spaghetti strips into the brown butter mixture and serve immediately. Garnish with uncooked RazzMatazz grapes.
---